Brian DelGozzo (June 02, 1983 - April 24, 2010)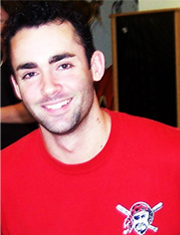 On April 24th, 2010, Brian DelGozzo was tragically taken from our lives at the young age of 26. Those that were lucky enough to cross paths with Brian in his short life cherished his vibrant personality. His charisma was incredibly contagious and he had an effortless ability to brighten up any situation with his mere presence.
Brian's passion for life was unparalleled but, in a close second, was his love for sports. He was an athlete in his time and grew up playing football, baseball and basketball. When Brian wasn't playing sports, he was watching them. An avid local Philly sports fan, Brian enjoyed nothing more than going to a Phillies game with his family and friends. Although Brian is no longer with us, our memories of Brian as a beloved son, brother, teammate, co-worker and dear friend will live on forever.
"How ya doing lil lady?"
-Brian DelGozzo, Cherry Hill, N.J.