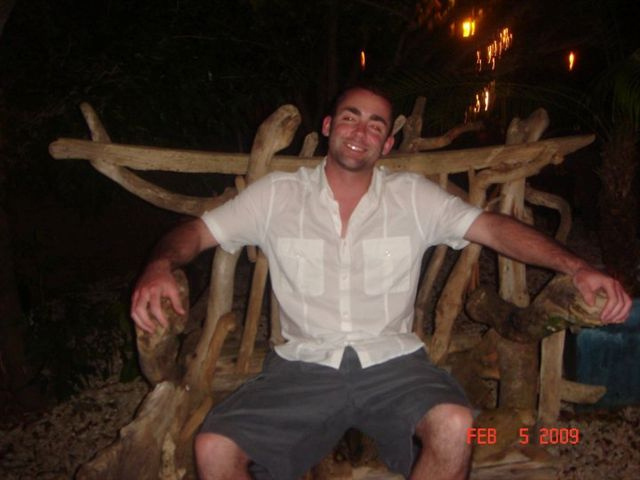 On April 24th, 2010, Brian DelGozzo was tragically taken from our lives at the young age of 26. Those that were lucky enough to cross paths with Brian in his short life cherished his vibrant personality. His charisma was incredibly contagious and he had an effortless ability to brighten up any situation with his mere presence.
Brian's passion for life was unparalleled but, in a close second, was his love for sports. He was an athlete in his time and grew up playing football, baseball and basketball. When Brian wasn't playing sports, he was watching them. An avid local Philly sports fan, Brian enjoyed nothing more than going to a Phillies game with his family and friends. Although Brian is no longer with us, our memories of Brian as a beloved son, brother, teammate, co-worker and dear friend will live on forever.
Family and friends remember Brian DelGozzo as a Philadelphia Phillies fanatic. He was revered at the Cherry Hill Public Library, where employees are in the process of creating a memorial. At home, DelGozzo would dress up as Santa Claus to entertain young family members. Everybody loved him. He was captivating. He was everybody's pick-me-up.
In memory of Brian's love for life and sports, please join us for the Ninth Annual Brian DelGozzo Softball Tournament on Saturday, October 6, 2018. The event will be a single-elimination softball tournament at Cherry Hill West High School. Following the games on Saturday, friends, family, and guests are invited to a beef and beer at PJ Whelihan's in Cherry Hill, NJ at approximately 7pm. We are in the process of reaching out to various organizations in hopes of obtaining sponsorships and donations for the raffle that will be taking place on the day of the event. We understand that times are tough but anything you can afford to donate would be greatly appreciated. We will have banners advertising the sponsors of the event and recognition for raffle donors as well. If you are interested, sponsorship rates are included in the Sponsors section.
All proceeds from the softball event will be donated to two organizations this year: The Moyer Foundation's Camp Erin program, the largest network of bereavement camps in the country for children and teens who are grieving a significant loss. The Moyer Foundation was founded by World Series Champion and All-Star pitcher, Jamie Moyer, and his wife, Karen. The second organization is Alex's Lemonade Stand Foundation, which helps raise awareness of childhood cancer causes — especially research into new treatments and cures. Alex's Lemonade Stand Foundation was founded by Alexandra "Alex" Scott, whose vision and work is continued by her parents, Jay and Liz Scott.
Please direct all donations to admin@rememberingbrian.com via PayPal or by mail to:
Brian Delgozzo Memorial Foundation c/o Patrick Welding 126 Mansfield Blvd South Cherry Hill, NJ 08034